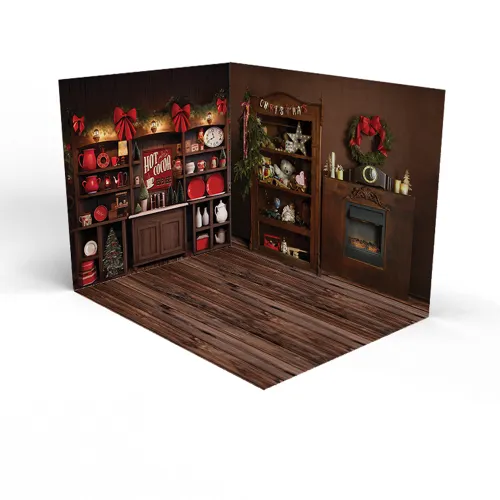  
Room Hot Cocoa
Our Backdrops come in many different sizes and materials:
Vinyl: exceptionally precious matte surface PVC
Fabric: backdrop cloth is our latest and greatest material
You will be able to choose those options once reaching the product page.
When you order a dark backdrop, we suggest you print on fabric because it eliminates 100% the reflections that can be visible on the vinyl, if you use dark colors. When you buy a clear backdrop, we suggest vinyl.
The entire backdrop changes according to the selected dimensions.
Once an order has gone into production cancellation is not possible.
Vinyl backgrounds:
* Fire standard
* Matte
* No folds
* Waterproof
* Scratch resistant, you can even walk on it
* Very smooth, the structure is invisible on the images
* Impossible to rumple
* Double vinyl sheet with a black sheet between to block passage of all light  
* Easy to wash, use a wet sponge
* Durable - may be used for a long period of time
* May be used with portable background stands and murals
* May also be used from the white side
Fabric:
* High quality cotton
* 100% reduction of all light effects
* Matte and perfectly thin
* The backgrounds may be washed and ironed!
* Crease-resistant
* You can easily step and walk on it
*Our fabric is certified according to the M1 fire-protection standard
Thanks to its very modern machinery, P'tit Style guarantees perfect colour saturation. Additional information: in the printing, the saturation tones may be deliberately varied, as this allows us to guarantee the result of the developed photos. Backgrounds over 160 cm: printing with stronger inks. At the beginning the ink smell may be more intense.
If you're interested in larger backgrounds, we can also print them in panorama format.
Panorama backgrounds are 250 cm. high and their width is unlimited. However, there won't by a hem in the upper part of the background.
For example: a vinyl image 250 x 500 with hem can be printed in 500 x 250 without hem. For example: a fabric image 300 x 600 with hem can be printed in 600 x 300 without hem.
4 other products in the same category: